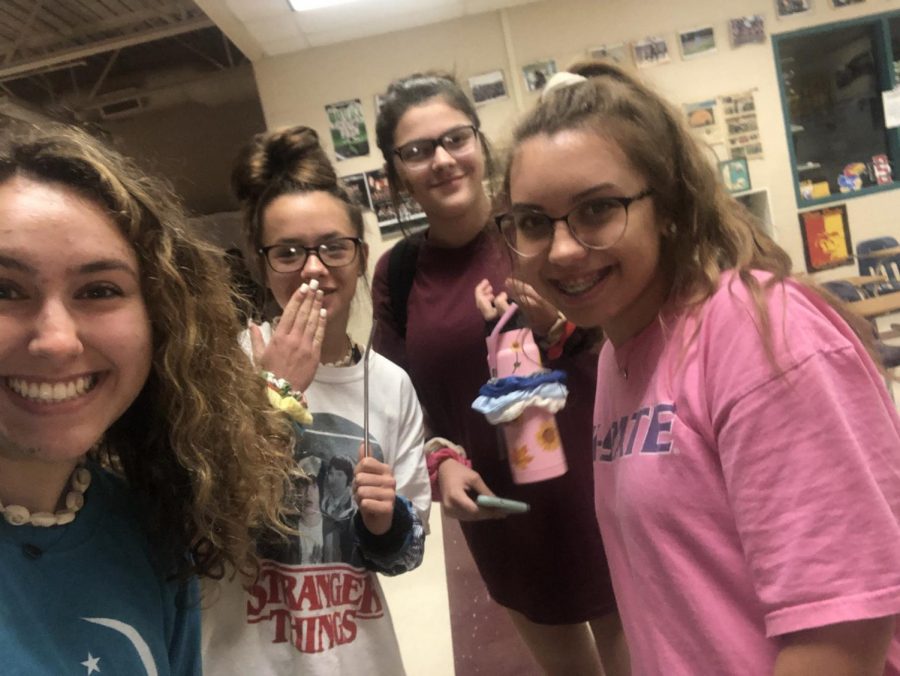 I started my morning as usual — brush teeth, mess with hair, look at my face in the mirror contemplating if I try today or not.
It's Tik Tok Tuesday at school today for Homecoming spirit week. My choice of theme dress? The iconic Generation Z VSCO girl.
There was a mad scramble to find the accessories that completed the VSCO girl ensemble. Scrunchies, yes.
Oversized shirt, you bet.
Birkenstocks and the coolest socks ever, for sure!
Crocs and a Hydro Flask… not so much. I've failed the VSCO girl ambiance. If a true VSCO girl is reading this, I sincerely apologize.
Running late, as usual, I rush to the kitchen (you know the sorta jog but more run) and run into my brother. I look at him, and him and me. 
"VSCO girl day?" my brother asked with a slightly judgemental tone.
"Yes," I said. "Is it convincing?"
"Do you have one of those necklace things?" he asked.
"You mean a shell necklace?" I said with a smile. Finally an excuse to wear that necklace.
"Yeah," he said interrupting my thoughts. "That's a real VSCO girl thing."
And that ladies and gents, was the longest conversation I've had with that boy in weeks. 
I rushed back to my room and grabbed my shell choker necklace, which is called a choker for a reason. Then it was off to school. 
My usual morning routine consists of getting coffee, and I was VSCO girl prepared today. I brought a reusable cup and straw — save the turtles! I grabbed my pumpkin spice latte and headed to school.
I counted five VSCO girls, a VSCO guy and an e-girl in my second block. I passed a clown as I walked by J hall — I nearly screamed. 
The opportunity to say "sksksk" hasn't presented itself and I have to say I'm disappointed and relieved — I don't think I could pull it off.
I've been very comfortable in my blue Life Is Good shirt, mix matched socks, and velvet scrunchies — I'm not sitting in K-11 feeling like an ice cube, like usual.
All in all, Tik Tok Tuesday was a hit. I've survived my day in the life of a VSCO girl.