Orchestra concert continues despite other cancellations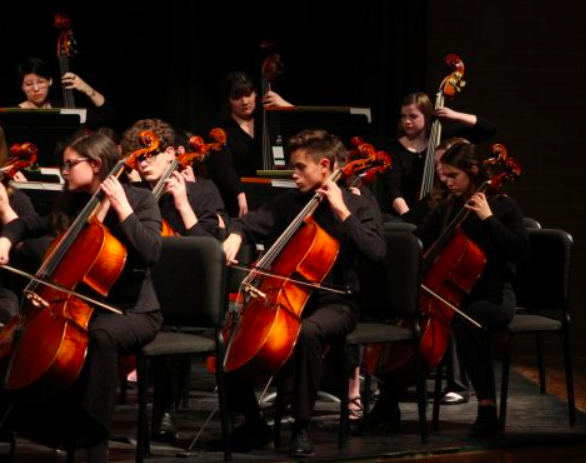 The Coronavirus has caused the cancellation and postponing of many music events, such as Coachella, Stagecoach, and tours of several artists like Khalid, Green Day and Mariah Carey. 
But the virus didn't stop the DHS orchestra concert on March 10.
"We came early so (my mom) can spray down her seat with Lysol. She is scared of the Coronavirus," sophomore Kennedy Sumner said. 
The Symphony Orchestra played two pieces "Chaconne and Variations" and "Blue Rhythmico." 
"Blue Rhythmico" by Kirt Mosier is sophomore Abigail Fowler's favorite to play on her bass.
"I think it's because of the emphasis of the jazz music," she said.
The Philharmonic Orchestra played "Prometheus Overture, Op. 43", "Danny Boy" and "Green Rhythmico." The orchestra had a student-teacher from Southwestern college, Julia McMains, conduct "Danny Boy." 
Cello player Madison Jordan, a sophomore, is in Phil and she likes "Green Rhythmico."
"It's upbeat and it is kind of challenging, and it's fun to play," Jordan said. 
After the concert, many people said that the orchestra had the best performance this school year. Director Wesley DeSpain thought it was the best concert this year.
"I've seen the orchestra get gradually better in terms of quality," DeSpain said.