Boys' Wrestling wins 6A state tournament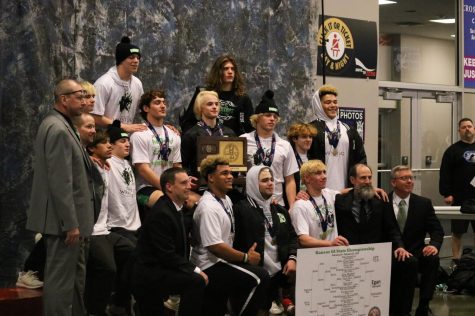 On Saturday, the boys' wrestling team won first place overall at the 6A state tournament at Hartman Arena. Of the thirteen that competed, ten placed.
Senior Knowlyn Egan became the 2023 champion at 157 pounds, scoring 26 total team points.
"It felt like all the weight on my shoulders was gone and it was just a lot of relief of so much work put into that moment," Egan said.
The following wrestlers also placed in the tournament:
Braden Tatum placed second at 126 pounds.
Troy Allen placed second at 144 pounds.
Tate Rusher placed second at 150 pounds.
Jayden Grijalva placed third at 106 pounds.
Miles Wash placed third at 215 pounds.
Peyton Neptune placed fourth at 175 pounds.
Layne Sweat placed fifth at 138 pounds.
Mason Hopper placed fifth at 190 pounds.
Maxwell Robinson placed sixth at 285 pounds.