Asher: Navigating the State Fair in 45 minutes
Promise Asher
September 13, 2017
Do you have the attention span of a squirrel? So do I.
Forty-five minutes, $7 and a goal to see the entire Kansas state fair.
My timer starts and I'm off.
First stop, Oz gallery. I stopped. I saw. I moved on.
My heart was set on the Meadowlark building. Booths of all different sizes and colors drew me in. Frisbees from Pittsburg State, pencils from the secretary of state, a stress ball from the Kansas Bureau of Investigation and a baggie full of other goodies. I left the building satisfied, but I wasn't done yet.
Next.
At 25 minutes in I knew I was in a crunch for time. But that's when I do my best work. I navigated my way to the north side of the fairgrounds.
In a frantic search for food, I was distracted by such inviting smells. Pronto Pups. Outlaw Fries. Funnel cake of all shapes and sizes
And then, I see it. Absolutely captivating, beautiful in every possible way, and capable of fulfilling dreams. Three words.
Chocolate. Covered. Cheesecake.
The best $7 I have ever spent. Next.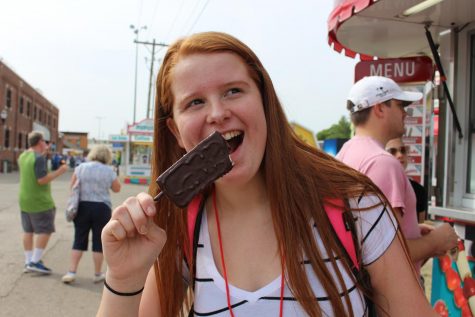 The Kansas sun was beating down on me, and I knew I would have to find a way to cool myself down to finish my journey.
Cheesecake in one hand and determination in the other, I made a mad dash through the sunflower splash pad. The spectators never saw such a sight.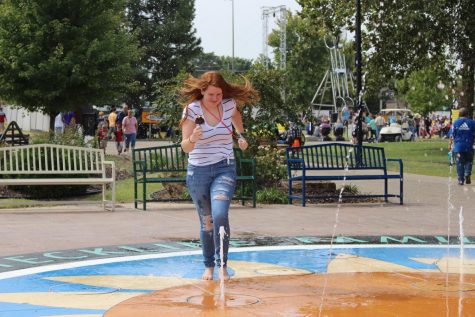 After that came the llamas. Jett, Asher, Arman. None of them spit on me. My bucket list is still incomplete.
The last part of my journey was a scavenger hunt for agricultural terms. I left the competition in the dust while they were still trying to read the different puzzles with the help of mom and dad.
Those third graders never saw me coming.
My journey was finally complete, my stomach was full and my eyes had seen everything the fair had to offer.
Time for a walking taco.