Panthers roll past Salina Central in weather-shortened game
Derby wins fourth straight game
Kaitlyn Sanders
October 7, 2017
Filed under Sports
Hang on for a minute...we're trying to find some more stories you might like.
Derby earned another victory as rain and lightning ended the game with the Panthers leading host Salina Central 34-0.
The game time was pushed up to 5 p.m. in an effort to avoid the coming weather, but fans still did not get to see a four-quarter game as it was suspended and then called.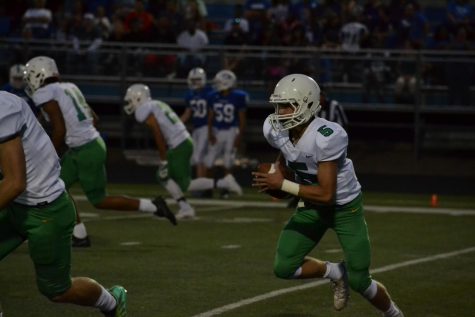 (Hunter Igo during Sept. 8 at Goddard)
Junior Hunter Igo started in place of Grant Adler at quarterback. It was Igo's first start since Derby's loss at Goddard on Sept. 8.
During the first quarter the Mustangs held the ball for more than eight minutes in one possession.
The Panthers finally had the ball, but they fumbled. There was no score after one period.
But Derby made up for that lack of offense in the next two periods.
Senior Brody Kooser scored three touchdowns — a 49-yard receiving touchdown at the beginning of the second, a punt return touchdown before halftime and a 42-yard rushing touchdown in the third.
Sophomore Aaron Larson scored for the second time on varsity.
Senior Brady Walls scored with a 30-yard catch for his first touchdown of the season after junior Dax Benway caught one of his two interceptions of the night with a big return.
The Panthers (5-1) next play host to Campus (3-3) for senior night on Oct. 13.