Derby boys lose lead, win streak in loss at Newton
Kaitlyn Sanders, Yearbook staff writer, photographer
February 11, 2018
Filed under Sports
Hang on for a minute...we're trying to find some more stories you might like.
Eight seconds left. Derby trailed Newton by two.
The Railers' Ty Berry made one of two free throws for the three-point lead.
Panthers senior Bryant Mocaby raced down the court, but his three to tie the score was off.
Newton beat Derby 68-65, ending the Panthers' six-game winning streak.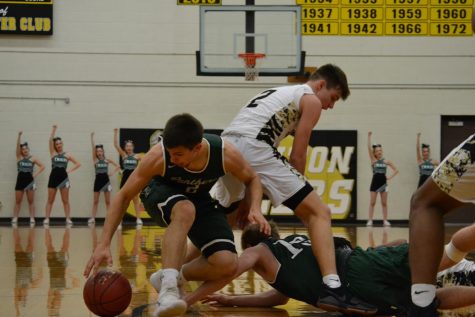 If Mocaby had hit the three-pointer, it would have been the second time in a week that he had scored to send a game into overtime. Derby beat Salina Central on Tuesday in double overtime; Mocaby made the game-winning three.
Friday's loss at Newton was  a lot different from the first meeting a month ago.
The Panthers dominated the Railers Jan. 9 in a 90-71 victory, the highest scoring game this season.
This game the first half was close with Newton leading 31-30.
The Panthers took a 13-point lead in the third quarter, the biggest lead of the game.
Newton's Alex Krogmeier led with 22 points, most of them on three-pointers, while Mocaby had 26 and Derby senior Tyler Brown had 23.
The Panthers (11-5) play host to the Salina South Cougars (4-12) on Tuesday.