Boys soccer caps season in Final Four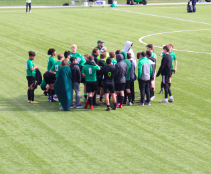 Blake Chadwick
November 7, 2018
Filed under Sports
Hang on for a minute...we're trying to find some more stories you might like.
It was a long road to get back to the Class 6A Final Four for the Derby boys soccer team.
"I never expected to come this far, so my emotions are I am overwhelmed with joy and happy to be this far," senior midfielder Clayton Simmons said.
Derby came in hot after a 1-1 (6-5 in penalty kicks)  win over Lawrence Free State, a 1-0 win over Liberal in the regional championship and a 1-0 win over Washburn Rural in the quarterfinals.
The Panthers became road warriors during the playoffs, traveling 4½ hours to Liberal, two hours to Topeka and then three hours to Olathe for the final two games of their season.
The Panthers came in with a lot of swagger, but the Olathe East Hawks were a different beast. A direct and athletic team, Olathe East controlled the ball early and forced mistakes.
The Hawks struck first in the 21' minute and then again in the 22', quickly gaining a mountain of momentum.
The Panthers could never get the energy or attack going, spending most of the game on their defensive half.
Olathe East scored again in the 75' a few minutes after senior goalkeeper AJ Howard was helped off of the field for concussion protocol.
Olathe East won 3-0 and went on to win the 6A title.
In the third-place game on Saturday, the Panthers had another hard task at hand as they tried to end the season on a winning note by beating Shawnee Mission East.
The Panthers started off the game fast and smart, but a relatively early first half goal for the Lancers set the tone for the game.
As the second half kicked off, the Panthers found a little bit of new life high pressing the Lancer defense into a few mistakes, but as time dwindled the Panthers started pressing to get a tying goal.
The Lancers were able to net a late goal, and the dream of third died.