Yearbook cover revealed
Chloe Brown
December 10, 2018
Filed under News
Hang on for a minute...we're trying to find some more stories you might like.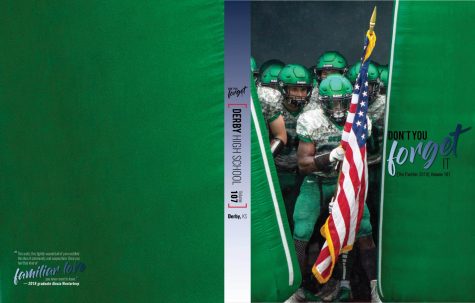 We are Derby.
[Don't] you forget it.
As editors contemplated our Yearbook theme and cover at the Walsworth Elite Conference in September, the speaker kept mentioning what makes Derby unique. We listed many of Derby's great feats: football, military, academics and choir.
The cover that we decided on includes two of those — football and military.
I realize that there is so much more to Derby than football.
I've been in yearbook for three years, so I definitely understand that not everything gets recognition here.
However we can't ignore what brings Derby together.
Where are the majority of people on a Friday night in September? In a crowd cheering on the football team.
What color does everyone wear on Friday? Green.
Football is something that people of all ages can bond over. Even if you don't like football, being in the stands is just as fun, if not more.
This yearbook is excellent already. The cover is strong. There's not much else that could have the same effect as that photo.
If you like the choice for the cover, that is awesome. If you don't, that's OK, too. Just check out the book and see that there is an effort underway to give a complete look at what Derby High is.
The cover is just the start. 
–Editor-in-chief, Abby Glanville