Derby football earns top seed in Class 6A with 48-point win over Maize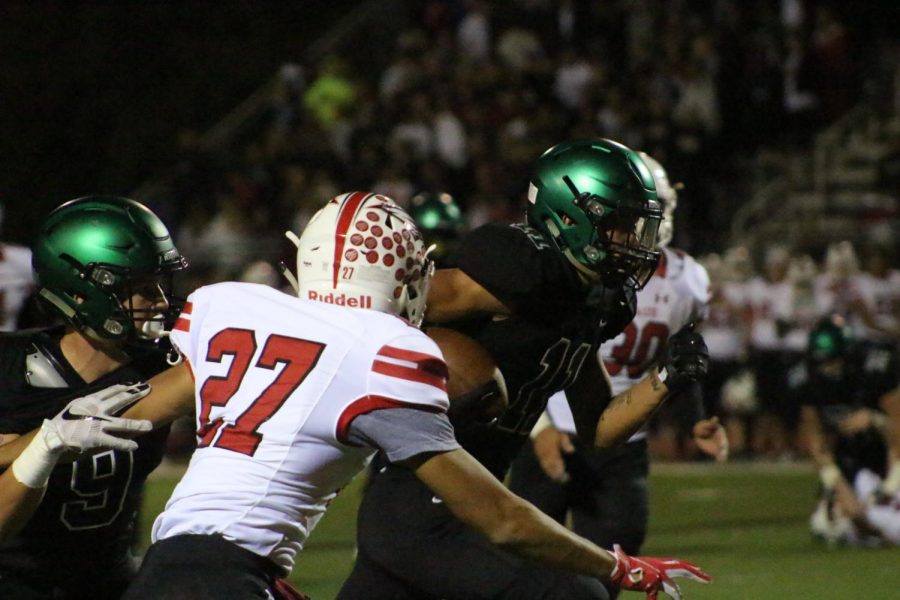 Blake Chadwick
October 26, 2019
The national game of the week according to the NFHS and KSHAA, Derby Panthers versus the Maize Eagles. A game for the ages, right? 
Both teams came into Friday's game 7-0, with the AVCTL I title, bragging rights, postseason seeding and momentum all on the line. The only problem was… only one team showed up. 
Derby won the AVCTL I title with a 55-7 win over Maize.
Right out of the gate came the Panthers, rocking their brand-new Nike jerseys. The importance of these? They were all black, the first all-black jerseys in Derby history. 
Even better, they were unveiled on their senior night. 
"We came out and spooked (Maize," senior defensive back Terry Ginyard said when asked about the wardrobe change the Panthers. They warmed up in the green tops and black bottoms, but changing to their all black jerseys as they ran out onto the field for kickoff. 
After a turnover on downs for the Panthers and a quick stop, the Panthers took over for their second possession pinned down on their one-yard line with Maize's defense staring them in the face. 
Two plays and a 99-yard touchdown run later for junior quarterback Lem Wash, the Panthers led 7-0. 
An interception from Ginyard on the ensuing possession officially started the Panther party. The Panthers enforced their will as they accounted for 405 offensive yards in the first half and the defense held Maize to just 14. 
Derby was lead by senior receiver Cavion Walker,who accounted for four first-half touchdowns, senior running back Tre Washington, who ran for 196 yards, and the whole Derby defense as the starters held Maize to 0 points. 
"Home-field advantage all the way through baby," said Ginyard in regards to what this win solidified for them going into the playoffs. 
The Panthers clinched the No. 1 seed in 6A in the west for the third time in the last four years.