Derby students honored at White Coat Ceremony
March 10, 2017
Filed under News
Hang on for a minute...we're trying to find some more stories you might like.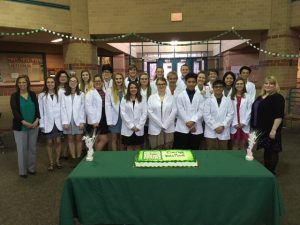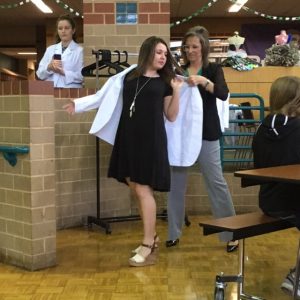 By Emily Cleveland
Panther's Tale
Derby High held its first White Coat Ceremony on Thursday for the students enrolled in the Medical Interventions (MI) class.
MI is the third class of the four-year Biomedical pathway that helps students pursuing a career in the health sciences get a head start.
Kathleen O'Brien, MI and Principles of Biomedical Science teacher, received a $500 grant from the Derby Education Foundation, which she used to purchase the white coats for all the students.
"In medical school the short white lab coat signifies the beginning of the learning process," O'Brien said. "I want this coat to signify the commitment to education and to give the student a sense of pride in what they are doing."
O'Brien hopes this will be the first of many years to come for the ceremony.
"My main goal was to recognize the accomplishments of our students," she said. "These classes aren't easy and most students are taking other hard classes in addition to the biomedical courses," she said.
The senior and junior students received their coat from Human Body Systems teacher Karla Long and were congratulated by assistant principals Travis Moore and Alison Strecker.
"I thought the turnout was great. Almost all the students we able to be there, and it looked like everyone had at least one person there to cheer," O'Brien said.
Photos courtesy of Robert Ash