Two peaceful protests focused on police brutality occur in Wichita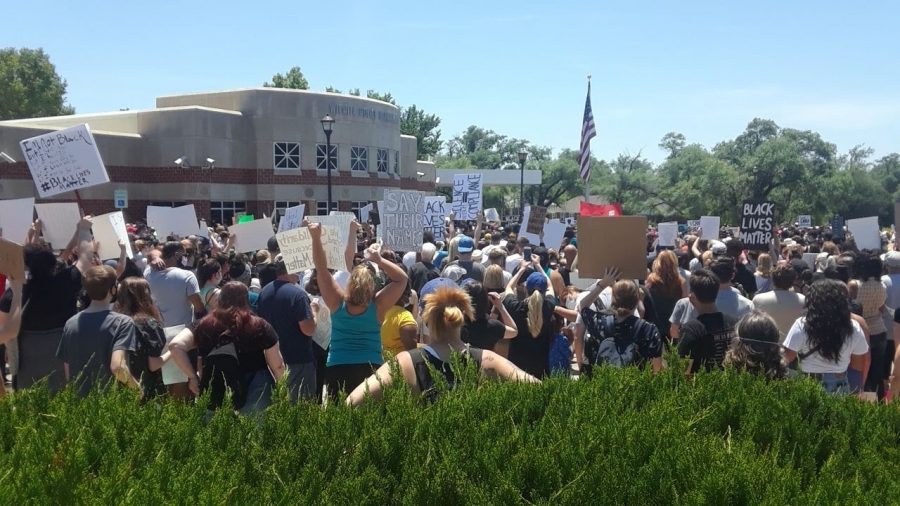 Jordan Parcell
May 30, 2020
On Saturday there were two peaceful protests in Wichita that brought light to police brutality against people of color.
Protests have been occurring across the country after George Floyd, an African-American, was killed in Minnesota by a police officer, who knelt on his neck for nine minutes on May 25.
Sean Wentling, who will be a senior at DHS, took part in the protest because he feels it's what people should do. 
"Not only am I fed up with inequality and the violence it results in, but I don't want everyone to go silent again," Wentling said.
Protests of this sort are often portrayed as violent or hostile, but Wentling said that the atmosphere "encouraged and excited everyone."
"Overall, I loved it," he said. "It truly was actively participating in change."
The protests consisted of marches – one to the Wichita Police Department and one to the courthouse in Wichita – and people making speeches.
"When one of the speakers started to sing, I saw a young boy with a sign saying, 'Am I Next?' It made me start tearing up," Wentling said.
The purpose of these protests was to protest police brutality against African-Americans, which Wentling believes to be important.
"If you don't fight, the oppressors will walk all over you; they'll keep their boots on your throat. We can't live for that," he said. "If this doesn't make you upset, then you aren't human."