In Plane Sight
Airplane parts outside DHS for aerospace classes.
Did you see the plane parts outside of K-hall? 
On Friday, WSU Tech delivered parts for teacher Tammy Kuipers' Aerospace Engineering Sheet Metal class. WSU Tech was getting rid of some old materials and asked Kuipers and teacher Mary Morgan if they were interested in using the resources as a learning tool for their classes. 
Kuipers is excited about using these fuselages, the main body of an aircraft and control surfaces to demonstrate techniques that she teaches.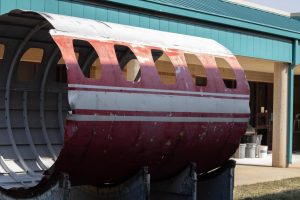 "The projects (the class) is working on are like small parts of a bigger picture," Kuipers said.