Football rolls past Maize South in home opener, final regular season game.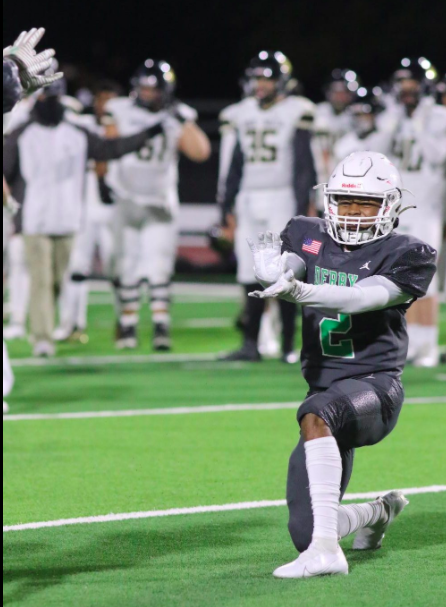 Blake Chadwick
October 24, 2020
For the last game of the regular season, Maize South traveled to Derby in a matchup of two teams that had given up leads in losses to Maize. 
But as the teams met Friday night, they both had one goal in mind — get the win and gain momentum going into the playoffs. 
For the Panthers, they were able to do just that with a 48-10 victory.
The Panthers came out sporting their new gray jerseys with white trim around their light green numbers and letters. The uniforms, which are Jumpman, sponsored by Jordan, are the only ones of their kind in Kansas. Only 200 teams in the country have football uniforms sponsored by Jordan. 
It was the second straight year, the Panthers took care of business by beating Maize South. The Panthers beat the Mavericks 55-7 in 2019.
The Panthers were clicking on all cylinders early. They forced an early three-and-out and then scored on the first play on a 37-yard Lem Wash.
After a back-and-forth defensive first quarter after the first touchdown, the Panthers were able to strike again, this time from Dylan Edwards on a 27-yard-run. 
For the majority of the game, the backfield of Wash and Edwards was impressive. Edwards had three touchdowns, while Lem ran for three and threw for one to Drake Thatcher. 
"It felt good to come back, we knew who we were so it felt good to prove to everyone who we are," Wash said. 
Wash had 187 rushing yards while Edwards had 237.