Pando prom attire for students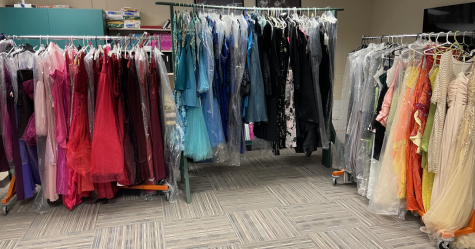 Derby High School's Pando Initiative has about 125 dresses, suit coats, slacks, dress shirts, and shoes for students to have for prom on April 30. 
"I know sometimes kids have those memories of "Hey that's my prom dress," so if they want to keep it they can. If they want to bring it back for someone to use next time we're more than welcome to have them back," Gary Meitler said.
They have a wide variety of sizes and colors on display in E-1, all available to try on.
"We have had the prom dresses in here every year but we didn't have a place to display all of them until this year," Jenny Heseltine said. 
The prom attire was all donated by staff, students, and members of the community. They are hoping more students will utilize them this year, especially since they have a larger supply of suits, shirts, and pants than in previous years. 
"…being able to go in there and look at all the different colors and different sizes is kind of an eye-opening thing for them," Meitler said. 
If interested, students can get in touch with Jenny Heseltine or Gary Meitler in the Pando room in A-5.