Girls Swim Wins League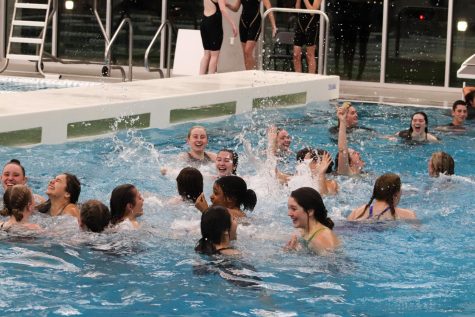 Girls swim won the AVCTL 1 league meet last Friday.
They celebrated by jumping in the pool at Maizes Performing Arts and Aquatic Center. Jumping in the pool is a tradition. During the boys swim season they won their fourth league title so they jumped in as well.
Many swimmers met state consideration time at the meet. State begins tomorrow and 14 swimmers are going as well as five divers.
League went really well for the dive team. Sophomore Ana Self took first, senior Lexi Silva took third, sophomore Kenidi Lowmaster took 4th and junior Alexis Stanton took 7th.
Self has taken first in every dive meet except one and placed eleventh in state last year.
"I feel like I just need to dive how I know I can and see what happens. I'm not as nervous as I was last year. I'm excited though, because it will be fun," Self said.