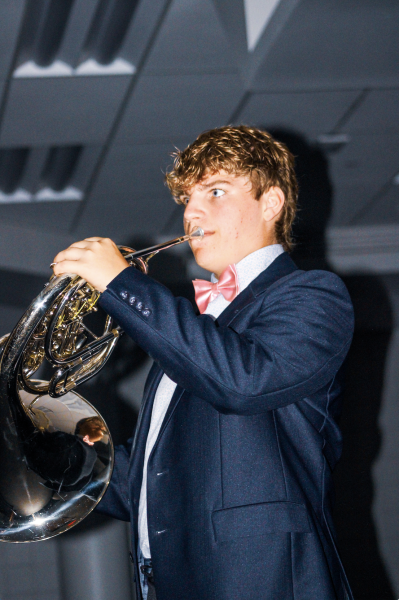 With determination and grit, junior Brandon Beal has thrived in music since he was 8 years old.
"In third grade, we were learning about all of the instruments, and I saw the picture of the French horn. I thought it looked like the coolest instrument ever," Beal said.
Three years later, he began playing the horn and fell in love with it. He now plays three different instruments.
"The French horn is my main instrument. I play horn in more professional, orchestral, and soloistic settings," he said.
Beal plays trumpet in jazz band, which was also the first instrument he learned how to play.
"(The) Mellophone is what I play in the marching band, and it more closely resembles a trumpet than a horn, though it is its own unique instrument," he said. 
Beal loves to spend his time outside of school in a musical setting. 
"The highest level of groups that I've played in was the state band and orchestra," he said.
Musicians across the state spend three days rehearsing and then perform. Each section has hundreds of people who audition.
"Everyone there is extremely virtuosic at their own instrument," said Beal.
Beal has also been a part of two drum corps – Blue Coats and Blue Knights – and both recently won world championships for the drum corps international world championships.
"I visited four camps throughout the weekends — so eight days of nonstop learning and performing," Beal said.
Beal is the principal in the Wichita Youth Symphony and a section leader and soloist in the marching band. 
"I play in the Delano Orchestra, Wichita Youth Wind Ensemble, and Wichita Youth Woodwind Quintet," he said.
Over the summer, Beal participated in the Brass Institutes of America at Wichita State. 
"The best brass players in the United States travel far distances to be a part of the Brass Institutes of America. There were probably a couple hundred people," he said. 
Beal was one of the top six horn players, allowing him to play in the horn sextet.
"I'm planning on going to college to major in music performance and music ed," he said. "I then hope to earn a spot in a prestigious conservatory. Finally, I hope to play in a professional orchestra someday like the Berlin Philharmonic."