Derby boy helps others while battling disease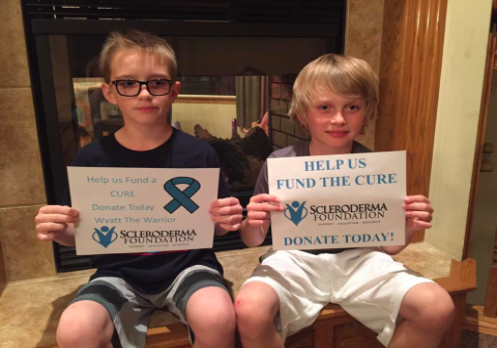 Hang on for a minute...we're trying to find some more stories you might like.
Wyatt Wright, a normal 10-year-old boy from a small town, is trying to find a cure while helping others.
"Ever since Wyatt was diagnosed, I felt like I needed to get involved," said Candace, Wyatt's mother.
Candace Wright started the foundation in Derby a few years after Wyatt was diagnosed with Scleroderma. This disease makes your internal organs turn into stone and can spread to your heart and kill you.
"Basically it's as if you stare at Medusa everyday," Wyatt's family said.
Wyatt is currently on a six-year plan that consists of methotrexate, chemotherapy, steroid infusions and weekly chemo shots. A positive side to his treatments is that he is able to take his shots at home. However, he does have to fly out to see his doctor every two months to make sure his liver and kidney functions are on the right track.  
"Even with all these challenges, he never gives up or feels sorry for himself," Wright said.
Although Wyatt's disease makes his body harden from the inside out, he tries to lead a positive life. He does this by participating in school sports and helps with many foundations. Some of the organizations Wyatt and his family help with are medical travel expenses, lodging, medications, collecting items for the local hospitals, feeding the homeless, and, of course, spreading awareness to Scleroderma.
"We stay positive by giving back and helping others," Wyatt's parents said.
Wyatt's family just hopes to be able to spread awareness to this horrid disease and grow their foundation so that they are able to help people outside of Wichita, too.
"We believe in turning all negatives into positives," Wright said.