Panther Personalities: Foreign exchange students relish the new life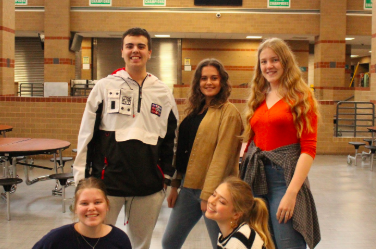 It's one thing to go to a new school, but for most, a new school may be as far as across the street. 
For the foreign exchange students, their new school was across the world.
Katharina Thomsen, Esra Schilderinck, Berengere Vetillard, Ludovica Quercioli and Markel Elorriaga are not only in a new different environment but also involved in a different learning experience.
"It's overwhelming at first, but it's a lot of fun," said senior Katharina Thomsen, who is from Germany.
"I live in a big city in Germany, with like, 1.8 million people, so this is (much) smaller," she said.
All students except for Quercioli have already gone back to their home countries due to the global pandemic COVID-19.
"It's making me leave home early, It's sad that I couldn't do the prom and the graduation," Quercioli said.
Though originating from many different hometowns in a variety of countries, these students came together with the same struggles of sharing a new beginning.
While all of the students are registered as seniors, many of them are in different stages of education.
When asked about what they're going to do upon arriving home, Thomsen said "I'm going to finish school." 
"I'm going to college next year. I already finished my high school last year," said Esra Schilderinck, who is from the Netherlands.
Being in a new area also brings new challenges in social life.
"The difference is like, for me after school, I used (the) subway, before school I use (the) subway, and here, for transfer you use (a) car," said Berengere Vetillard, who is from France.
It took courage for these five unique students to embark on this journey.
"It's not easy, like, because you have to adapt to all the extra things that your family tell you to do, and create a new life," said Quercioli, who is from Italy.
It's hard to imagine how living in a new area works until you experience it firsthand.
"Being abandoned, learn a new language, like a whole new experience. A whole new life that will be the best," said Markel Elorriaga, who is from Spain.
These expressive and charismatic individuals all have worked to enjoy life in a newfound space.
"I love Sonic. I go to Sonic all the time," said Thomsen, hours before going to the fast food chain once again.