Page 3: Rap music's a creative outlet
Whenever senior Hayden Reece makes music, he just tries to get into the zone, feel the beat, get into the music and match the things his words reflect.
"It helps me vent and express my feelings," Reece said. "It's easier to express myself that way, and it's fun." 
Reece's setup includes a blue Yeti microphone with some soundproofing foam to prevent background noise with the microphone hooked up to his laptop. He typically will find a beat online and start to rap over it to see if it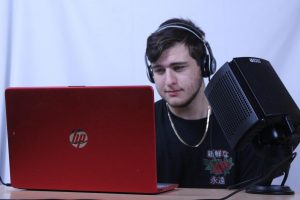 will work with the flow of the lyrics.
Making music has helped Reece, who works as an insurance broker, calm down and even given himself more clarity as he works to understand himself better. 
"I think he enjoys (making music). It's a good hobby that he can do and express himself in that form," said Jacob Floyd, who is Reece's roommate.
Music has positively impacted Reece in other ways, specifically with the opportunities it opens up and the people he has met.
"I've definitely met interesting people and talked and got to know really cool people and done cool things through music," he said. "And it's also different because doing music you put yourself out there and it helps you really not care about what people think about you." 
Reece, through his music, has not only discovered new opportunities but also improved his mental health. 
Reece goes by Blu SMK on SoundCloud and when asked if there was anything people should know about his music, he said "parental guidance advised." 
He draws a lot of his inspiration from Lil Peep or rock music and does it all on his own.
His No. 1 song "Avarice" was released in October and quickly grew as his most popular song in just a couple of days.