A Unique Room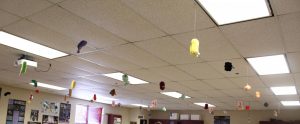 If you ever walk into Kathleen O'Brien's room, you'll notice something.
There is bacteria hanging from the ceiling. 
"I first saw (the plushie bacteria) at a science teacher conference and thought they were kind of a cute way to teach about diseases," O'Brien said. 
O'Brien now uses the bacteria plushies to teach her students. 
"Students are always curious about the microbes and want to know which ones are which, and any time I talk about a disease or certain types of cells I can point to them," she said. "I think they help students think about science in a different way and realize it can be fun and not just learning about boring old, dead white dudes."
She uses her bacteria plushie ceiling as a memorabilia piece, as well.
"When we added the senior biomed class Biomedical Innovations, I started giving the seniors a keychain sized brain cell with a graduation cap, so they would always remember their crazy Biomed teacher," O'Brien said.