Abrie Mong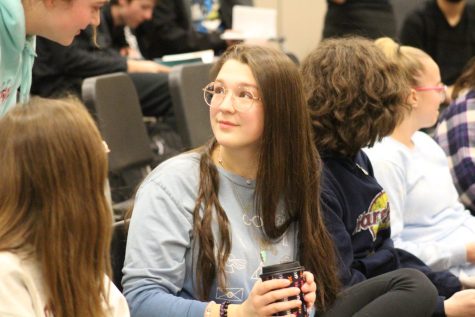 Most little girls dream of being a princess when they grow up, but for sophomore Abrie Mong, her dream will soon be a reality. 
Mong will star in the DHS production of Cinderella in February, her first DHS musical. 
When the cast list came out in November, Mong stood among her fellow cast members waiting not so patiently for drama teacher Richard Shultz to put up the list. 
"I try to start scanning from the bottom up so that the excitement grows as you get towards the top of the list. Sometimes it's really disappointing when you don't make it," Mong said. 
This time was different, though. As Mong looked up the list, she didn't see her name.
But as she reached the very top, her name appeared next to 'Cinderella.'
"I didn't believe it for a minute," Mong said. 
Mong didn't know what to do or who to tell. 
"Most of the people that I was going to tell were already there," Mong said. "Actually, my friends knew before I did because they saw the cast list when (Shultz) was holding it all tight before he posted it on the door. I had not seen it yet."
The show is Feb. 10-12, and the cast is in the thick of rehearsing, memorizing and learning everything they need to for the show. 
"We're starting to do blocking. We're supposed to be off book. We're still allowed to have our music for lyrics and songs and we still have our script because we're doing blocking," Mong said. 
Mong is excited to see the show come to life but also feels nervous for her own sake. 
"I'm really excited to be out there performing with my drama friends, and to be a part of this production and just get the experience from it. And I'm really excited to see it go out on stage, but I'm really nervous for me," Mong said. 
Mong has has been in a lot of shows, both plays and musicals. 
"I think one of my first shows, I was 4 or 5," Mong said. 
Mong, whose mom and dad were in the military, grew up in Germany, where she got her start in plays.
"There was a program on the base. So you'd go in and do a show," Mong said. "You would have auditions Monday, then Tuesday, Wednesday, Thursday you would learn songs, lines, choreography and blocking, all of that, and then Friday was your show. And so I started getting into that when I was real little and I did that up until like my sixth grade year."
Once she moved to Derby in second grade, Mong continued to do theater in the DRC summer theater program and the Derby North Middle School Drama Club. 
"I just love theater, and I love the community that goes in theater," Mong said. 
When it was time for auditions for Cinderella, it was a no-brainer that Mong would audition. She went into it with an open mind, and she says she still felt nervous. 
"When you audition, if you don't get a role, it's not that you're not good enough. It's that you didn't fit one of the roles they were looking for, or that you just weren't quite right for what they needed. It's not that you're not good enough," Mong said. 
She felt she did her best at the audition and walked out knowing that anything could happen. 
"I have to remind myself that I may get chorus or I may not even be cast, but that's because it just wasn't what was supposed to happen this time around," Mong said.