Update: Panthers football team under 'temporary quarantine,' Friday's game has not been canceled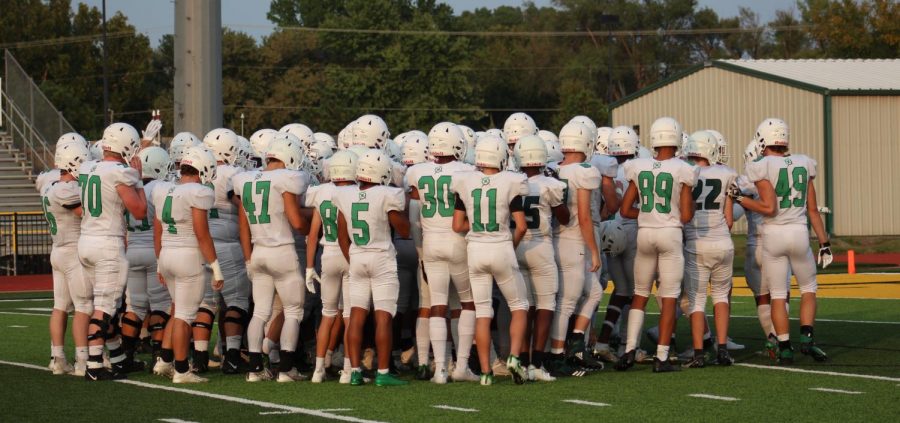 Blake Chadwick
September 21, 2020
Update: After Derby schools and the health department investigated into late Monday evening, the number of students needing to be quarantined was decreased. For that story, go here: https://pantherstale.com/45016/sports/number-of-quarantined-football-players-students-reduced-after-further-investigation/
"I feel like my whole senior year is getting stripped away from me," senior quarterback Lem Wash said. 
At around 11 a.m. on Monday, the Panthers' football season hit a bad turn as the players and managers were told in a meeting that they were all quarantined until Oct. 1, according to multiple players. PanthersTale.com broke the story.
The news that players were quarantined was verified by principal Tim Hamblin when he spoke to the school as a whole over the PA system later in the day.
However, in a district email sent at 4:45 p.m., the quarantine was stating the following:
"Derby High School was made aware of two positive cases, which required the temporary quarantine of the Derby football team per guidance from the Health Department. This also required the quarantine of students in some classrooms. The game on Friday has not been canceled at this point because the Health Department is working with one of the students who tested positive to determine who close contacts are or if the entire team has to remain in quarantine. We should have updated information from the Health Department soon. The current quarantine was the direction provided to us by the Health Department and will stay into effect until their investigation is completed."
About 20 players told yearbook and newspaper staffers Monday morning that the football team was told it would be quarantined through Oct. 1.
The Panthers had just hit their stride after beating Bishop Carroll 35-21 on Friday to improve to 2-1.
But Monday's news was worse than any loss. 
The Panthers will not play Friday's Homecoming game — their first scheduled home game — against Salina South.
"I'm sad, I'm angry, I want to cry — just different emotions," said sophomore running back Dylan Edwards, who has gained 394 rushing yards in the past two games.
According to multiple members of the football team, two people associated with the team have tested positive for Covid. The parents of nearly 300 students, who were deemed close contacts, were notified.
"Currently, we are all being called out one by one from the main gym as the athletic director and principal contacts our parents and we are only allowed to leave when our parents are outside to pick us up and take us directly home," sophomore football player Miles Wash said. 
"I'm not feeling many positive emotions about the situation, but I know this is for the health and safety of my fellow students, so I'm all for being required to leave. I'm not too worried about getting Covid myself, but as far as spreading Covid goes, I do worry a fair bit about it because I would not want to unintentionally hurt someone with higher health risk."
Football is considered a high-risk sport for Covid, which is why such precautions are being taken.
"I feel like almost everyone has a fear of getting COVID not just getting it for themselves but the potential family members or friends they might infect that struggle more with the symptoms," sophomore football player Derek Spring said.
Junior Corey Akins knows the season is in danger. But he has hope.
"This is my team, they are my brothers," he said. "Our season ain't over. It's just a small hiccup, hopefully."
Additional reporting was done by Reese Cowden, Josie Nussbaum and Talia Ransom